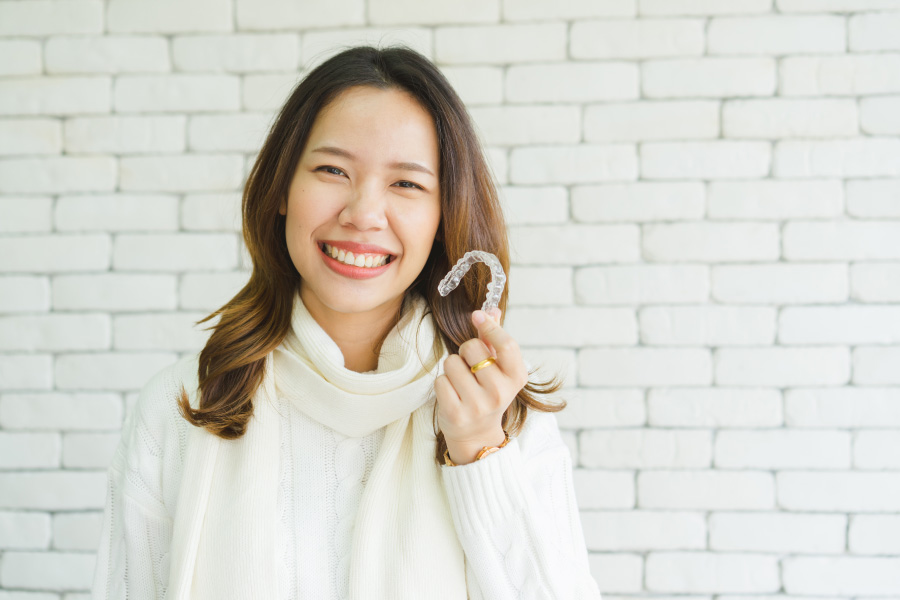 Why Good Oral Hygiene During Invisalign Treatment Is Important
March 30, 2023 1:26 am
---
When you're starting Invisalign treatment, we understand that your main concern may be how soon you'll be able to finish wearing them and enjoy a perfectly straight smile. Straight teeth can give you a major boost of confidence that brightens many different aspects of your life. But while you're waiting for that big day when your Invisalign treatment is all done, it's important to make sure you're maintaining great oral hygiene.
The Potential for Cavities, Discoloration & More
Invisalign trays are designed to fit super snug around your teeth. If you're not frequently and carefully cleaning your teeth or your trays, food and bad bacteria can get trapped between them. When that bacteria is left to linger on your teeth for long periods of time, it can increase your chances of developing oral health issues like cavities, tooth discoloration, bad breath, and gum disease.
How to Maintain Oral Hygiene During Invisalign Treatment
One of the benefits of Invisalign is being able to completely remove your aligners. This means it's not as difficult to keep your teeth clean as it is when wearing braces. You should floss at least once a day and brush your teeth in the morning when you wake up, after eating throughout the day, and before going to bed at night.
To keep your aligners clean and safe, put them in their protective case when you're not wearing them so they don't pick up extra bacteria and so you don't accidentally lose them. In addition, be sure to rinse your aligners after taking them out and before putting them back in your mouth. You should also brush them in the morning and at night with lukewarm water and dish soap.
Your Oral Health Is Our Priority!
Looking for more oral hygiene tips? Whether it's related to Invisalign or something else, our team at Main Street Dental is here to help you. Contact our Bentonville practice today!
Categorised in: Cosmetic Dentistry, Dental Tips, Oral Hygiene, Preventive Dental Care